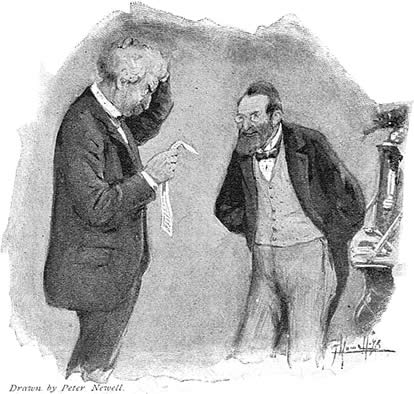 Figures often beguile me, particularly when I have the arranging of them myself; in which case the remark attributed to Disraeli would often apply with justice and force: "There are three kinds of lies: lies, damned lies and statistics."
-

Mark Twain's Own Autobiography: The Chapters from the North American Review
Illustration by Peter Newell from COSMOPOLITAN,
August 1898
http://www.twainquotes.com/Statistics.html
The Board certified

852 different tariffs in respect of the 15-year study

period between 1999 and 2013. Only 8 proposed tariffs were not certified. There remain 209 tariffs proposed during that period but not yet certified. When (and assuming) those tariffs are eventually certified, the Board will have dealt with more than 1050 tariffs applicable to the 15-year period since the 1997 legislative amendments entered into force.

That amounts to more than 70 tariffs per year on average.

(emphasis added) (footnotes omitted)
Those numbers are not only startling and counter-intuitive. They are, according to the Board's own information, counter-factual. They exaggerate the Board's "certified tariff" output by an order of magnitude of approximately 1,400%, as shown below and render many if not all of the key conclusions of this study potentially very unreliable.
This results from what is, in my view, a fundamental and fatal flaw in the way this study was conceived and executed. This is the decision to "disaggregate" data from every "tariff", as Prof. de Beer explains at page 10:
Accordingly, this study's approach was to disaggregate data from every "tariff" proposal based on the multiple procedural possibilities between publication and certification. During the research proposal, every certified tariff was broken into its constituent components and subcomponents, dissected by year, number, and letter (where relevant). For example, the Board's decision on Re:Sound's Tariff 6.B (Use of Recorded Music to Accompany Physical Activities) for 2008-2012 dated July 6, 2012 became five units of analysis; Re:Sound 6.B 2008, Re:Sound 6.B 2009, Re:Sound 6.B 2010, Re:Sound 6.B 2011, and Re:Sound 6.B 2012.
By breaking each subdivision of each tariff down to separate years, numbers and letters, he comes to the conclusion that the Board has certified 852 tariffs in the 15 year period of the study. That is, frankly, absurd. To suggest, for example, that SOCAN Tariff 10 which covers Strolling Musicians and Buskers in Part "A" and Marching Bands and Floats with music in Part "B" is really two separate tariffs for each year it has existed is simply surreal. This methodology does not reflect even remotely the Board's own metrics or taxonomy. Nor does it reflect the reality of the way the Board works, or the practice of the stakeholders.
Here is my own chart – prepared in couple of hours with no funding from anyone and based upon the Board's website information, with links provided. The comments are my own and very brief:
TYPES OF TARIFFS CERTIFIED BY COPYRIGHT BOARD BETWEEN 1999 - 2013

NUMBER CERTFIFIED TARIFFS FROM 1999 – 2013 (including "redeterminations")

COMMENTS and LINKS TO ACTUAL DECISIONS

This tariff is

now extinct

, since the collective was never able to recover its costs

Opposition to this tariff has essentially evaporated, since it now only applies to the obsolete medium of blank CDs. The Board lists each year from 2012 to 2016 as separate tariffs

,

but there were only two proceedings.




This is by far the major sector covered by the Board. There are 47 tariffs listed, but 8 of them involved both SOCAN and Re:Sound (formerly NRCC), so they should not be counted separately. There are

41 decisions between 1999 and 2013

, some of which concern relatively minor matters.

22 decisions

,

many or most of which are procedural or "interim"

n/a These are not "tariffs" and even the term "arbitration" is a misnomer.

The Board has rendered

14 decisions

between 1999 and 2014 – all but one of which (now pending in the SCC in CBC v SODRAC) are "interim". These are not part of Prof. de Beer's analysis but are included in this chart for the sake of completeness.

TOTAL NUMBER OF TARIFFS CERTIFIED

This is an inflated number, and reflects a number of minor "redeterminations" and other less than significant events. But is the Board's own number, as calculated from the Board's own posted information. Still, this is less than 10% of Prof. de Beer's number of 852.

Number of tariffs per year on average

This the total of 74 certified tariffs divided by the number of years being studied (15). This is greater than the number of decisions per year, since many of these tariffs are unopposed because they are unimportant or the objectors cannot afford to participate in the Board's process, or for other reasons – such as the oppressive and intrusive interrogatory process.
So, if the Board is right, and I am right, then Prof. de Beer's conclusion that the Board certifies 70 tariffs a year is off by a factor of 70 ÷ 4.9
, i.e. more than 1,400%.
The result of this gross inflation of the number of certified tariffs is that the Board looks much more productive than it actually is or even claims to be, and key findings such as lengths of time to certification may be significantly watered down and must be regarded as potentially highly unreliable.
I have repeatedly suggested on an anecdotal basis that:
It often takes that Board four years or more for a tariff to reach the hearing stage

It often takes the Board two years or more after the hearing to render a decision

The decision is often wrong

The decision is invariably retroactive
Few, if any, who are familiar with the recent history of the Board would disagree with my anecdotal observations. Even the recently retired Chairman stated almost 10 years ago that the delay in decision rendering was excessive. This was at a time when parties were grumbling about mere 18 month delays. In a
published speech from 2006, the now retired Chairman of the Copyright Board (William Vancise) stated
shortly after his appointment:
I am not at all happy with the time it takes to render a final decision. I have tried to address the issue and I can assure you it will be resolved.

If the Supreme Court of Canada can render a decision within six months of a hearing, there is no reason why this Board cannot do the same.

My goal is to see that this occurs.

(emphasis added)
The trend seems to be getting worse rather than better. Hence, Prof. de Beer's overall conclusions are instantly questionable, for example when he suggests at page 37 that "
It took on average a further 1.29 years for the Board to issue a decision and certify the tariff following a hearing."
First, we don't know what he means by a "hearing" or a "decision". Some of the Board's hearings and decisions are quite perfunctory. His conclusion that "hearings last on the average 22 days" (page 37) is highly questionable. Perhaps this figure is explainable by the fact that some hearings may be spread over such a period, with adjournments of several days to prepare final arguments, or for other reasons.
Even that likely watered-down figure of 1.29 years is hardly good news for the Board. One needn't look far to find huge exceptions For example, the Provincial Governments are still waiting for about 2.5 years for a decision. Or, consider the fitness industry, whose battle may – and I emphasize "may" – only now finally be over after about eight years as a result of the Board's most recent
decision
. Here's the timeline of the recently certified fitness tariff:
Tariff is filed June 2, 2007
Board Hearing April 27 to May 11, 2010
Board Decision July 6, 2012
Judicial Review Application Filed August 7, 2012
Hearing by Federal Court of Appeal ("FCA") November 19, 2013
Decision by Federal Court of Appeal February 24, 2014
Parties File Settlement March 21, 2014
Board approves settlement agreement with minor adjustment March 27, 2015
Note the highlighted and underlined lengthy delays while the Board contemplated its decisions. The last delay of over a year is particularly ironic, since the parties had submitted a consent agreement in February of 2014. How long should it take to approve a consent agreement submitted by sophisticated parties after a seven year struggle?
I will have more to say in due course about Prof. de Beer's study. But the bottom line for the moment is that we do not need to know about "skewness", "kurtosis", "regression analysis" or other statistical esoterica.
If we focus on a realistic notion of what a "tariff" is, which is what the Board certifies in the Canada Gazette a few times each year, we can get back to common sense and then perhaps move forward. We need to focus above all on the factors that have resulted in the unacceptable timelines that depart far from other judicial and tribunal norms but now seem to be the new normal at the Board. It may prove to be the case that human, institutional and political factors, which are not measurable by Prof. de Beer's or any other objective methodology no matter how scientific and reliable, need to be addressed.
This study, for whatever reason, avoids the real issues at the Board. It reiterates and provides fuel for the Board's campaign for more resources and calls for still more ongoing analysis, datasets, comparative analysis, etc. This would make for nice work for the consultants, whoever they may be, but won't solve the problems.
Unfortunately, Prof. de Beer's study fails to confront, look at or even identify the elephant(s) in the room(s). It arguably does not even look into any of the right rooms. Let us hope that it does not unduly distract from solving the real problems.
Judge Parker's remarkable report about collective activity in Canada that led to the creation of the predecessor of today's Copyright Board, which worked a lot better for more than 50 years than does the current Board, has just had its 80th anniversary. We don't need more dithering or distraction.
We need a decisive and well-qualified judge or retired judge who can hit the ground running as the next Chair and fix up the internal problems at the Board. And we need Ministers and officials to do their job and implement the necessary regulations.